In September 03 we bought our first house...and with all new houses, we needed a new puppy!!! Eric really wanted a boxer. I was perfering a Daschund or Beagle (note the differences in sizes :-D) I really didn't want a big dog. At one place, a woman suggested we look at the Boston Terriers...who look like Boxers and have a similar temperment :-D So, we checked them out at a few places. We just fell in love with Babette when we first met her! She was so playful and so adorable. She loved to play with Eric's work badge and we loved watching her just run around. We decided she was the right puppy for us! And brought her home on our very first day in our house. She's been a great training tool in getting ready for the baby....she wakes us up in the middle of the night, we have to feed her, we can't forget her anywhere, we have to pick up after her, give her attention, and she doesn't listen! haha
We've recently decided that we need to increase our family by 1 dog....So, we're in the process of looking for the perfect puppy through Boston Rescue. If we're meant to have another dog to love, then hopefully we'll have him or her soon!!!
Babette shows her team spirit...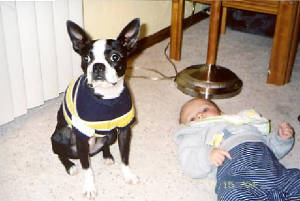 by wearing Michigan colors!
Princess Babette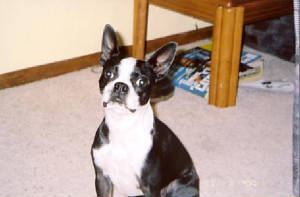 poses for a picture